PFORM NETWORK
Hello Pformers!
We are very excited to announce that THE PFORM NETWORK is going live today!
HOW DO I ACCESS THE NETWORK?
· First, you must enrol into Term 2 or the Full Year.
· Once you have done this, log into your Pform.nz account on our website.
· You will see a NEW red option available at the top of your home page, reading 'Pform Network'.

· Click this button and you'll be sent straight to the NETWORK!
Note: If you have more than one student the NETWORK will default to the oldest students classes. You can select the STUDENTS drop down tab to view alternative students classes.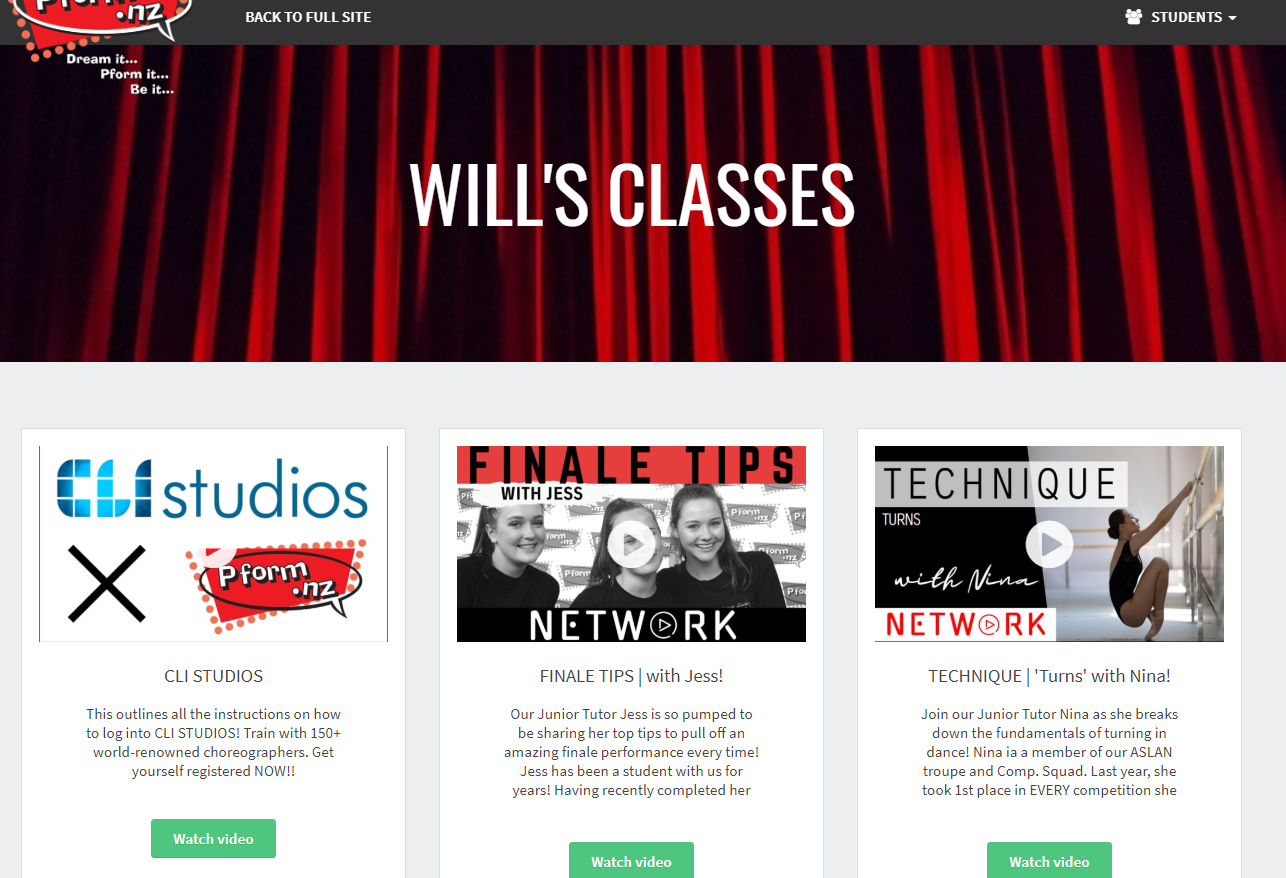 HOW WILL TERM 2 TRAINING WORK?
· We will be uploading ALL class training content onto the NETWORK until we are back in physical classes.
· These are currently formatted as pre-recorded videos teaching snippets of dance, drama, technique, fitness, and singing.
· At this stage, classes will not run according to our regular schedule, meaning you DO NOT need to login to the NETWORK at your normal class time to receive training!
· Instead, you are allowed access to a myriad of videos which you can access whenever you have time.
· We will be updating the NETWORK constantly, so new videos will KEEP popping up for you to train with!
WILL THERE EVER BE LIVE CLASSES OR DIRECT TUTOR ENGAGEMENT?
· Time will tell! If lockdown continues to prevent us from hosting physical classes, we may include EVEN MORE NETWORK content in the form of live classes.
· At any time, you are able to send videos or questions to tom@pform.nz! He will coach you one-on-one and give you feedback on anything you're willing to share with us.
I'M AN OLDER DANCE STUDENT, HOW IS MY TRAINING GOING TO BE CONTINUED ONLINE?
· As part of your NETWORK experience, you ALSO get access to CLI STUDIOS, an exclusive training platform where 150+ choreographers from around the world have filmed professional classes for you to train with!
· This will be available for all Intermediate Dance, College Dance, Dance Troupe and Comp. Squad students.
· You can find instructions to login to CLI STUDIOS on your NETWORK home page (it'll be written in a PDF, look out for the blue CLI logo in the thumbnail!)
WILL THE NETWORK STAY OPEN?
· Yes! Even when our physical classes re-open, we will still keep the NETWORK operational!
· This will become a place to connect with your tutors, to access extra content and improve your skills even outside of class.
I'M LOOKING TO LEARN SOMETHING SPECIFIC, CAN I REQUEST TRAINING VIDEOS?
· Absolutely! We want to hear from you. Let us know what content you want to see more of and what content you think we're missing.
· We WILL listen to every request and do our best to produce that sort of training for you!
TO SUM IT ALL UP:
This is a COLLABOARATIVE space for ALLLL the Pform community to learn, grow and have fun! Please communicate with us, we want to hear your thoughts and keep creating amazing content for you. If you have ANY ideas, email us at info@pform.nz.
Remember, you also get ONE-ON-ONE feedback at your fingertips from Tom! Utilise this for the optimal NETWORK experience.
We will keep developing and nurturing the NETWORK so that you get the best training possible. As new types of content arise, we'll be sure to let you know!
We know that nothing can replace the magical connections we make in class as one big Pform family. We obviously are working SUPER hard to get physical classes up-and-running again, but this is the best substitute until then! Rest assured, you are still getting high-quality training (probably in even more disciplines than you are used to!!) and hopefully having fun with the bonus NETWORK content we have uploaded as well. We are adamant that this is a perfect solution to our lockdown blues!